Marshalling
Combining Coats of Arms and Crests: Impalement, Quartering, etc.
Marshalling or Combining Coats of Arms
To marshal two or more coats of arms and/or crests means to combine them into one shield and crest design.
This may be done to represent the union of two families in marriage, to express inheritance, or the occupation of an office or management of a business.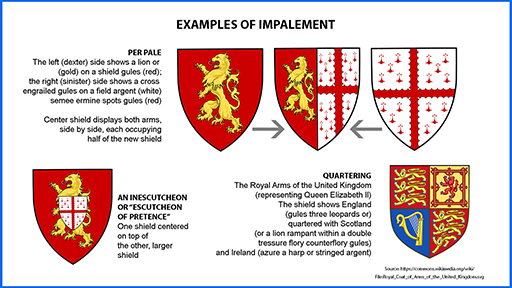 Impalement
Impalement is dividing the shield per pale (left and right) and putting one entire coat of arms in each half.
Historically, the husband's coat of arms would occupy the left (dexter) and the wife's heritage would be displayed on the right (sinister) side.
Alternatively, a wife's paternal arms were traditionally displayed on an inescutcheon (escutcheon of pretence) in the center of her husband's arms when she had no brothers or descendants of her brothers to carry on bearing her father's arms. (She became an "heraldic heiress").
Quartering is also another option for families or nations. The Royal Arms of the United Kingdom shows a quartering of the arms of England, Scotland, and Ireland. There are some lineages that have accumulated an extraordinary number of quarters (i.e., more than four despite the word "quarters" that implies four), but some heraldic authorities resist more than four quarters, allowing for the subdivision of quarters if necessary.
In ecclesiastical heraldry, a bishop's familial arms are often impaled with those of his diocese or see, with the dexter (left) position of greater honor occupied by the arms of the see, and the incumbent's arms in sinister.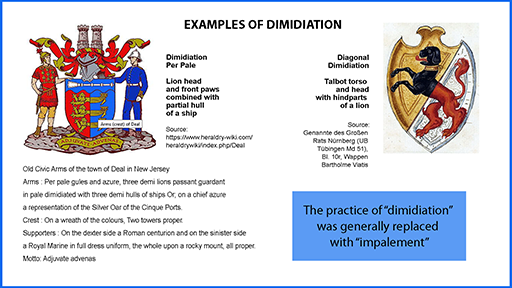 Dimidiation
Impalement is generally preferred over the earlier practice of "dimidiation" where the dexter half of one coat of arms was placed beside the sinister half of another. Unfortunately, the result was not always attractive and might not be clearly understood as the combination of two different coats of arms. After all, who wants a dog's head with lion hindparts, or a lion's head and paws with the hull of a ship as the hindparts?
Other Topics
Of course! Please see our portfolio and pick some examples that you would like your design to emulate.
Color and detail in a digital design can look very different when converted to an embroidery format. Please see our web page about embroidery services: Embroidery
This is called "hatching" and was used by jewelers and other artists when color was too expensive to use or unavailable.
What is Hatching?
"Hatching" is the term for representing the colors of a coat of arms in black and white. This was necessary when color printing was excessively expensive.