Embroidery Services for Your Custom Design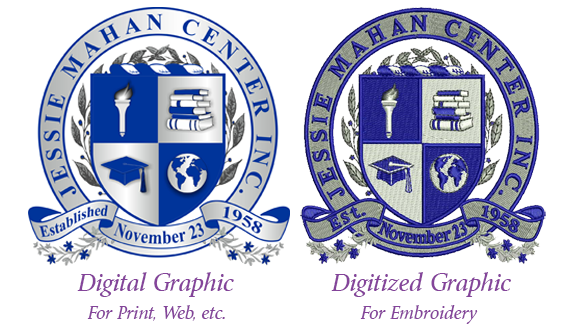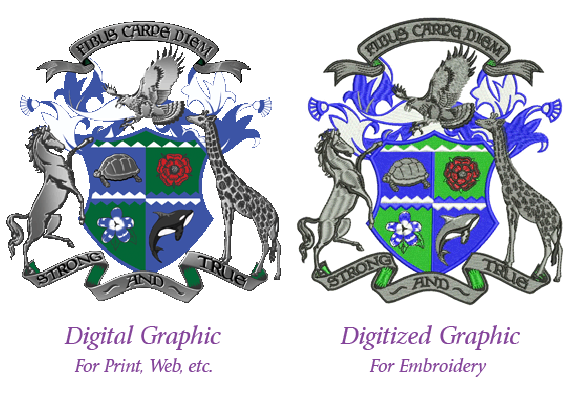 Can I have the design embroidered on clothing and accessories?
Yes! If you want to have a design that will look good when embroidered, try to keep it simple, with large, bold symbols, and avoid too much detail. Remember that you are using thread to represent the design, and thread can only be so thin! The smaller the end product will be, the less detail you can achieve. For example, an 8" x 10" display can show much more detail than a 4" wide blazer patch.
"Digital" Versus "Digitized"
We can provide a digital image that an embroiderer can convert to their "digitized" embroidery machine format. Note that embroiderers use different equioment and software, and the file will change depending on the size and type of material and thread being used, so they will usually charge a setup fee. Since different embroiderers use different types of embroidery file formats, it is best to allow the embroiderer do the digitizing for you to ensure that the file will work correctly on their particular equipment.
We recommend Imagine It Embroidery for all your embroidery needs.
Other Topics
Of course! Please see our portfolio and pick some examples that you would like your design to emulate.
Color and detail in a digital design can look very different when converted to an embroidery format. Please see our web page about embroidery services: Embroidery
This is called "hatching" and was used by jewelers and other artists when color was too expensive to use or unavailable.
What is Hatching?
"Hatching" is the term for representing the colors of a coat of arms in black and white. This was necessary when color printing was excessively expensive.