Ordinaries
Ordinaries and Subordinaries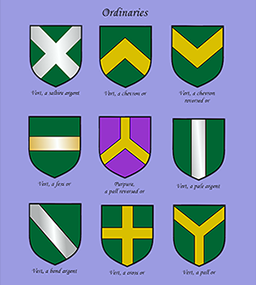 An ordinary is a geometrical design element that runs from side to side or top to bottom of the shield.
There are also some geometric charges known as subordinaries, which include variations of the traditional ordinary's shape or size.
Ordinaries resemble partitions of the field (the background of the shield).
Ordinaries in heraldry are sometimes embellished with edges of color, or lumps, curves, or even broken apart, among other variations.
Some historians call ordinaries "honorable ordinaries", and sub-ordinaries "plain ordinaries."
Other Topics
Of course! Please see our portfolio and pick some examples that you would like your design to emulate.
Color and detail in a digital design can look very different when converted to an embroidery format. Please see our web page about embroidery services: Embroidery
This is called "hatching" and was used by jewelers and other artists when color was too expensive to use or unavailable.
What is Hatching?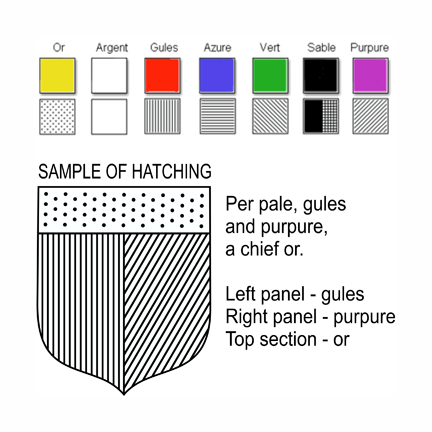 "Hatching" is the term for representing the colors of a coat of arms in black and white. This was necessary when color printing was excessively expensive.