Identifying A Coat of Arms
In Heraldry and In History
It is very difficult to identify a coat of arms from the design, alone. There are many coats of arms with almost identical elements on and around the shield, and about one million coats of arms in all. Your best hope is to research the origin of the piece itself and try to narrow the scope of names to research. You can also contact the College of Arms in England, which does offer an identification service.
Officers of arms are often commissioned to try and identify coats of arms and crests. Frequently this work is carried out for museums, auctioneers, and antique dealers so that the provenance of an object may be established. Private individuals also commission such research. The College holds an extensive series of pictorial indices to the armorial devices in its official records, together with numerous other sources both printed and manuscript which assist in making identifications.
Any person wishing to have arms identified should first either bring to the officer in waiting at the College the object on which they appear, or send an illustration, preferably a photograph. It will then be possible to quote a fee for trying to identify the arms.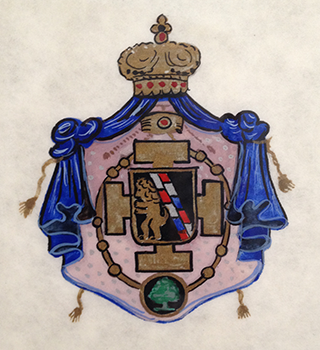 &nbsp
The College of Arms
Queen Victoria Street
London EC4V 4BT
England

&nbsp
From within England:
tel (0171) 248 2762
fax (0171) 248 6448x
&nbsp
From outside England:
tel +44 171 248 2762
fax +44 171 248 6448
&nbsp
They also have a website:
http://www.college-of-arms.gov.uk/
Other Topics
Of course! Please see our portfolio and pick some examples that you would like your design to emulate.
Color and detail in a digital design can look very different when converted to an embroidery format. Please see our web page about embroidery services: Embroidery
This is called "hatching" and was used by jewelers and other artists when color was too expensive to use or unavailable.
What is Hatching?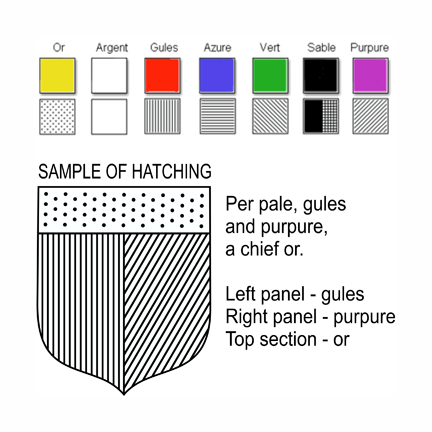 "Hatching" is the term for representing the colors of a coat of arms in black and white. This was necessary when color printing was excessively expensive.