Products for Your Custom Design
Blazon of Arms Certificate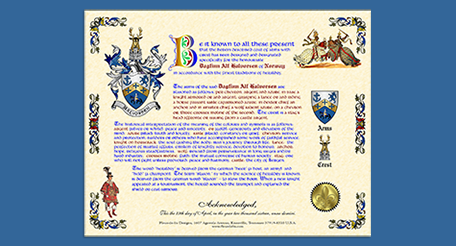 We will provide an official blazon of arms certificate that describes your coat of arms and/or crest in the ancient language of heraldry, along with the special symbolism of the elements and colors in your design.
The certificate is customized for your design, showing the full achievement of arms as well as the separate shield and crest. Your name and country of origin will be displayed along with a carefully-worded description of your coat of arms and crest and any mottoes, supporters, etc. The certificate is suitable for framing so that you can proudly display your design and its symbolism.

Shield-Shaped or Rectangular Plaque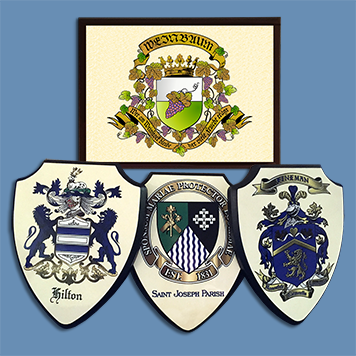 Your custom design can be printed on a 9" tall shield-shaped plaque with a parchment-like background, or on a 9" x 12" rectangular plaque. The design is permanently printed on the surface of the plaque in our art studio using a process called sublimation. The edge of the shield-shaped plaque is black with a beveled, carved effect. The beveled edge on the rectangular plaque is a cherry-mahogany color. If your design is not fairly square in shape, i.e., tall or wide, the rectangular plaque may provide a better background than the shield-shaped plaque.
Display your coat of arms with pride -- to be handed down to future generations.

What About Large Indoor or Outdoor Hand-Painted or Carved Plaques?
We don't offer this service at this time, but we can provide links to other companies that can immortalize your design on a more permanent display item. Links for Carved or Hand-Painted Plaques.
Signs for Home or Business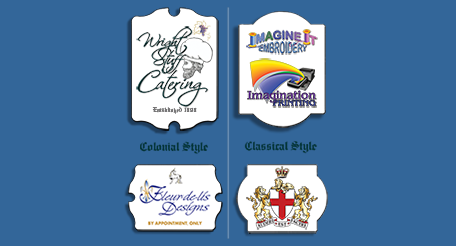 Colonial Style is 10.9" x 15.4" x .25" hardboard and weighs 1.13 lb.
Classical Style is 11.5" x 15.4" x .25" hardboard and weighs 1.13 lb.
Each sign comes with an adhesive hanger, but you also have the option of installing the sign with drilled holes and screws.
The signs are sprayed with a UV-resistant polymer coating.
Please call or e-mail us for details!