About Us
What we do

Custom Coats of Arms and Crests
We design coats of arms and crests for individuals and organizations from different regions throughout the world. We have satisfied customers in Austria, Australia, Sweden, South Africa, Thailand, Africa, Switzerland, Germany, Japan, the Netherlands, the United Kingdom, Canada, and the United States, among many others.
We will create a personalized family, business, religious, or school design just for you.
Provide as much or as little guidance as you wish. Note that the more guidance you can provide, the faster we can arrive at a design that you love!
We can also recreate all or part of a traditional, historic design.
A special web page is set up for your particular design. You can view your preview online, and then give us your changes. We will keep posting revisions until you are happy with the design, but the majority of our orders only require one or two sets of revisions at most. A deposit of US$ 30.00 is required when the order is placed; the balance is due upon approval of the final artwork.
We can provide your coat of arms and/or crest in a variety of formats for a variety of purposes. This will include a high resolution digital image for your unlimited use now and in the future in both bitmap and vector formats, such as .jpg, .svg., .tif, .ai, .eps, .png, .pdf, .cdr, and .wmf. You can use this image to produce (or to have your local printer produce for you) a variety of products, such as a framed color print, letterheads, stationery, labels, t-shirt transfers, logos, newsletters, and much more.... you can even use a web-formatted digital image on your own web page.
Once you have your logo or crest ready to market, a good web site will help promote your products and services. We have expertise in HTML5, bootstrap, CSS, php, and Wordpress, offering the functionality and clean coding needed for fast-loading pages with professional and appealing content. The cost depends upon the number of pages needed and any special coding required. Tell us what you have in mind, and we'll provide an estimate. We will create a unique web presence for you -- not just a cookie-cutter site. Your online business web site or personal web site will reflect your specific priorities and needs.
We have a professional heraldry research library, so we can find ancient coats of arms for thousands of names from regions throughout the world. Our primary heraldic artist, Julia Hardin, has 25 years of experience in heraldry and an additional 15 years as a graphic artist. Other artists are assigned as needed, depending on our workload, but Julia reviews every design before it is posted.
We also offer traditional graphic design services such as t-shirt designs, posters, book covers, signs, flyers, brochures -- practically any type of art you might need. Just use the Contact Form to describe your needs, and we'll get back to you with more information and an estimate. We have a special knack for "Guess the Number of Hidden Objects" Posters!
We will give each and every order our personal attention.
This is a secure site -- all transactions are encrypted.
What's the Difference Between a Family Crest and a Coat of Arms?
The crest is the part of the entire "achievement" or "coat of arms" that appears above the helmet and shield. Confusion over the term "family crest" probably arose from an understandable abbreviation of the terminology in heraldry for an important part of a coat of arms. One of the most respected sources for heraldry information is Fairbairn's Book of Crests of the Families of Great Britain and Ireland, first published in 1859 and revised over the years in various reprints.
It is not difficult to see how the use of the term "crest" could have become synonymous in common use with the term "coat of arms" since one is a part of the other and, through time, "the crest" has been associated with family names, independent of the coat of arms, in such publications as Fairbairn's. Indeed, crests have been used on engravings, rings, bookplates, and other means of displaying one's heritage for many years. Perhaps this is due to their relative simplicity in relation to the full coat of arms. However, authorities claim that they were never intended to be used alone, without the remainder of the official coat of arms. A previous editor of that esteemed Fairbairn book described the crest as "that part of the complete achievement which is placed upon and surmounts the coronet, wreath, or chapeau, which in its turn is above the mantling or lambrequin which it is supposed to attach to the helmet."
Primary Artist: Julia Hardin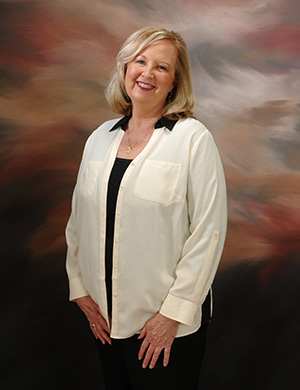 Julia has more than 40 years of graphic design experience in a wide variety of media, from paint and charcoal to fabrics and crafts. She started transferring her skills to digital media when computerized graphic design applications were first introduced in the late 1980s, combining her love of art with her fascination for computers.
She became interested in heraldry while researching her own heritage, which led her to a French ancestor whose coat of arms featured the fleur-de-lis. The more she studied heraldry, the more she realized that coats of arms and crests are a wonderful way to represent ideas and values with symbols -- for families, businesses, churches, schools, religious leaders, organizations, and individuals. And viola, Fleur-de-lis Designs was born.