Royal Coats of Arms
Queen Elizabeth II Coat of Arms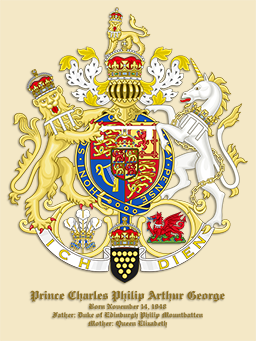 Charles, Prince of Wales, Coat of Arms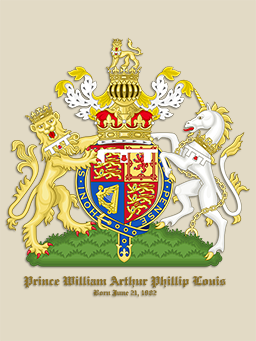 Prince William, Duke of Cambridge, Coat of Arms
Before and After Changes in Marital Status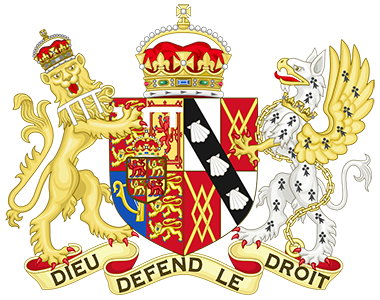 Princess Diana's Coat of Ams During Marriage
More information and artwork attribution information
While they were married, Diana's coat of arms quartered that of her husband, Prince Charles.
The left side of the shield is a "squished" version of Prince Charles' coat of arms (seen above). The right side is a similarly "squished" version of Princess Diana's coat of arms.
Her family is descended in the male line from Henry Spencer (died c. 1478). This coat of arms is quartered argent (white or silver) and gules (red), with the two red quarters bearing a gold fret. Across the top is a black bend bearing three escallops (scallop shells). Her son, Prince William, asked that his coat of arms include a small red escallop (seen above) to honor his Mother. The supporter on the right-hand side of the shield (sinister) is a griffin decorated with ermine spots.
After Their Divorce...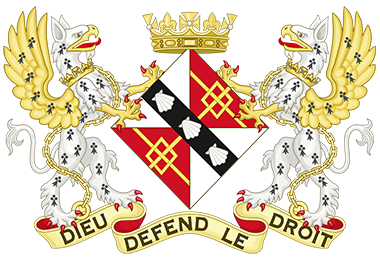 More information and artwork attribution information
After their divorce, Diana's new coat of arms reverted to the simpler design representing her family's heritage, but on a diamond-shaped shield.
New Coat of Arms for Catherine, the Duchess of Cambridge
More information and original artwork from which this was adapted
According to the web site www.dukeandduchessofcambridge.org, the Duchess of Cambridge (Kate Middleton) was given a new Coat of Arms when she became engaged to The Duke of Cambridge, Prince William. It was derived from the coat of arms granted to her father, Mr. Michael Middleton.
The three acorns represent Mr. and Mrs. Middleton's three children (The Duchess of Cambridge, Philippa Middleton, and James Middleton). Acorns were chosen because the area in which the children were brought up -- West Berkshire, England is surrounded by oak trees. Additionally, oak is a long-established symbol of both England and strength.
The gold chevron, which sits at the centre of the design, represents Mrs. Middleton, whose maiden name is Goldsmith. The two thinner chevrons, which sit either side of the gold chevron, allude to hills and mountains and represent outdoor pursuits that the family enjoy together. The colours blue and red were chosen as they are the principal colours from the flag of the United Kingdom.
After Her Wedding...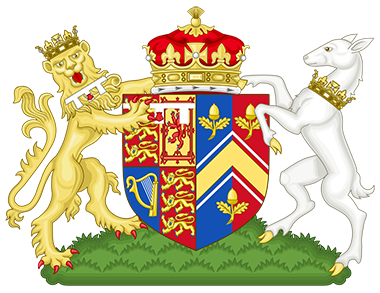 More information and attribution information
Once married, Kate's new coat of arms quarters that of her husband, Prince William, Duke of Cambridge and heir to the British throne.
For more information, see "How To Order A Custom Design".
A Very Short Description!
Other Information
Classical or Modern? Embossed or Blended? This may help you decide.
The way the shield is divided is an important design decision!
Keep these guidelines in mind in designing your new coat of arms and/or crest.
Examples of some of the more popular shield backgrounds.
These are the geometric features you see on many coats of arms.
Coats of arms and crests are a great way to symbolize your core values.